CBD Products (Non-GMO, Organic)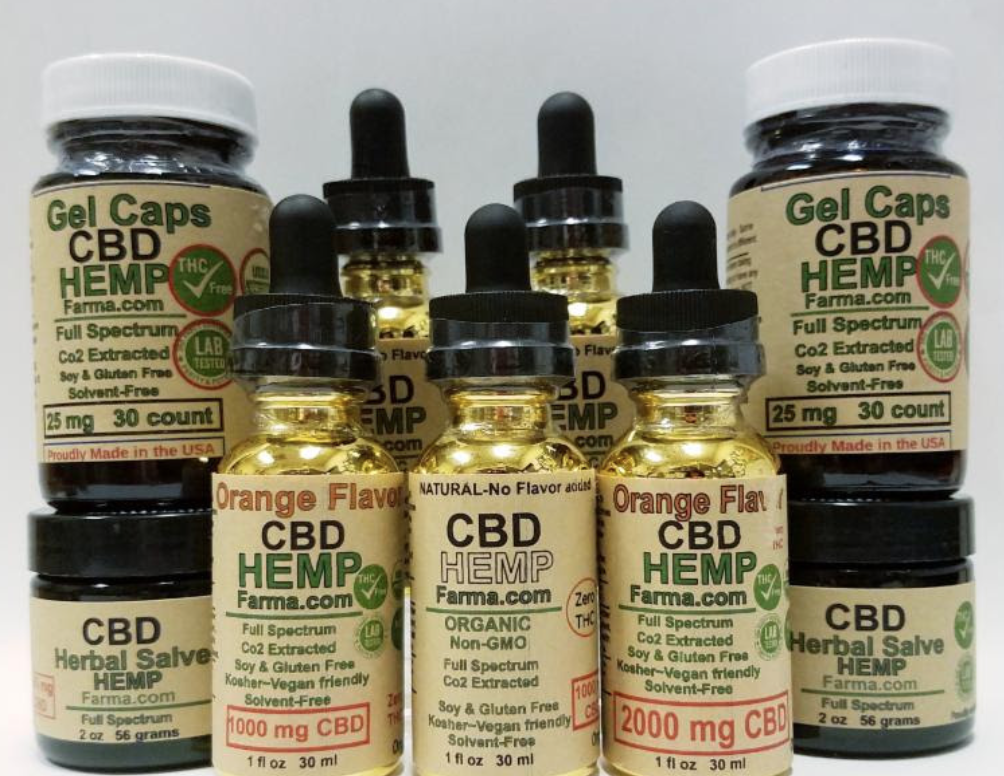 CBD Products (Non-GMO, Organic)
The Farm where the Hemp plants are grown is in Colorado, where the first and best farm in the world began! All of our CBD-Hemp products are Non-GMO, Organic, Co2 Extraction Method, Full Spectrum, THC-Free! They simply are the best, be assured!
Tinctures comes in unflavored, natural Orange flavor or Peppermint (min. order 6)


Cannabidiol, commonly known as CBD, is a plant part called phytocannabinoid found in industrial / agricultural Hemp. This phytocannabinoid has endless potential and has been recognized for its benefits on human and animal health, with the capability of affecting nearly every bodily biological process! CBD is non psychoactive, unlike THC, meaning it will not make a person feel "high", but instead it can impact a person's psyche and entire body with reportedly positive effects . Therefore, CBD does not result in a feeling of intoxication or "high" and has an impressive safety profile.
We have witnessed, experienced and received reports of extraordinary results for varying human issues, thus we very strongly believe in the future of Hemp and its limitless benefits. Through innovative and responsible application of science, we truly believe that we can enhance the lives of our customers and communities. Due to **DSHEA restrictions, we do not state specific conditions that CBD may positively affect Instead, we encourage you to do your own research through other news sources that can easily be found through a Google search. We also suggest you listen to current friends or family who may be satisfied CBD customers. We highly recommend using neutral sources to further your knowledge about this extraordinary product, because we want to be your supplier of superior products! While there are vast amounts of evidence and case reports supporting research, more scientific research on CBD is needed to provide function claims associated with taking CBD. We encourage you to talk to your doctor before starting any new nutritional or dietary supplements. CBD is considered a Dietary Supplement and legal in all 50 states. We do not make medical claims and do not practice medicine, we merely share information that others report.
CBD oil can be used for fast acting relief at onset, and as a continuing daily therapy. We recommend starting with 1 to 3 droppers or until you begin to feel relief. IF you are exceeding this amount, we recommend that you move up from a lower mg bottle dose to a higher mg dose bottle. It may take a bit of time to determine your optimum daily dose.
Regarding dosage, everyone's needs are different, therefore the amount you need varies. See below for further suggestions which you can adjust as needed.
Take that determined full dose for a few days to set a "benchmark" for yourself and your body. Your endocannabinoid receptors will begin to respond within a day or so. Then you can assess further if you should adjust, up-or-down as needed. You may reduce to half or feel the need to increase your daily dose by a half or even full, in which case you may want a higher mg bottle to save money.

Take CBD Tincture-Drops approximately the same time daily. (Within an hour, daily)

PM is excellent time, since most report that it is calming and relaxing. However, you may decide to take some P.M and in the A.M. Some people use it throughout the day as well.

After eating and drinking is finished and maybe half hour before bedtime is a favorite time for some to use tincture.
Always take the oil-base tincture, SUBLINGUALLY (under the tongue) do not follow with water or food...just let it dissolve 5 minutes under the tongue. It will dissipate.

The glass pipette never fills more than about 3/4 way up the tube and that is considered a full dose. To repeat, the tincture never fills up all way to the top of the tube. So, fill the tube to approximately same line each time. Tip bottle to get approximately the same quantity per dose.

Some people taking their preferred dosage, when extreme situations occur, will choose to take another half or a full second dose throughout the day. Example: some people take 3/4 dose at night, with a small 1/4 dose in the morning. There is not a set rule.
Consult doctor before use. If you want to change any current Rx prescriptions, check first with your Doctor! We never suggest Rx changes! Although, you need to know that when you take your proper dose of CBD, the effects on any medicines can be increased. Please take care and pay attention to your body. This may be why many people begin to decrease Rx meds after asking the Doctor, however always ask your doctor first.
Keep out of heat and extreme light, this is NOT for children, nor pets.
CBD Salve can be used anytime day or night, and as often throughout the day as needed.